Families- Please take our school survey located HERE. Your feedback is valued and important to us!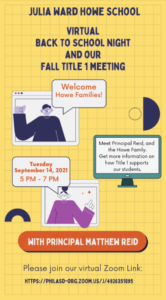 Welcome to what promises to be an unforgettable year!  It has been over 18 months since we have all been together in the building.  Since joining the Howe Community as its Principal, I have worked closely with our leadership team to make sure we are both mindful and intentional in planning the best start to the school year for all our students.  Our staff has spent the last few weeks preparing for all of our students to return to school, and we are excited to open the doors on August 31st.
For some of our youngest students, this year might be their first in the building, and we want to make sure the experience is an unforgettable one for them.  For our older students, we want them to be able to reconnect with their friends, teachers and the building they left some back in March 2020.  A few reminders as we approach the 2021-22 school year:
Our school hours this year are 7:30-2:09
All students and staff are required to wear masks when in school
At this time we are not permitted to have visitors in the building for the safety of our students
Breakfast will be served to students in their classrooms
Our goal is to use data from student assessments, teacher observations and talking with our students to drive them to reach their goals and surpass them.  We want all students to achieve their personal best both academically and emotionally.  The past few years have been difficult for all of us, and we want to reassure our students and parents that we will do everything in our ability to make them feel safe and secure while at school.
I look forward to working with the Howe Community this year as we welcome back all of our students and staff.  Please feel free to reach out to me with questions, ideas or just to check in.
Take Care and Be safe,
Principal Reid
Our Vision
Howe Academics Plus will serve all students with the right to a great public school close to where they live. Howe will create a safe, rigorous, and innovative learning environment with high expectations, collaboration, and recognition at the center of our work together. All stakeholders participate in empowering student voice in order to help them grow into lifelong learners and the next leaders of our world.  
Our Mission
The Mission of Howe Academics Plus is to provide a learning environment designed to empower all students to become the very best version of themselves by finding success both academically and socially. We will cultivate an environment that provides a consistent, clear understanding of what students need to learn. Students will take responsibility and ownership of their learning through opportunities for leadership and high level cognition in the classroom. In addition, we will actively engage in obtaining and maintaining partnership with all stakeholders in the educational process of our children.  
Rigor
Our central purpose is to create an intellectual climate, ensuring that all students are challenged to meet and exceed high expectations in all subject areas.  
Reading
All subject areas develop and nurture literacy and critical thinking skills  
Relevance
Researched-based information and data is what guides and drives our instruction so that children can make connections between learning and their lives  
Relationship
Our school community demonstrates mutual respect, tolerance, and caring by providing positive academic and extracurricular activities  
Recognition
Our school values recognition of our students, faculty, parents, and community for their talents and contribution